Nissan Altima: A Different Sedan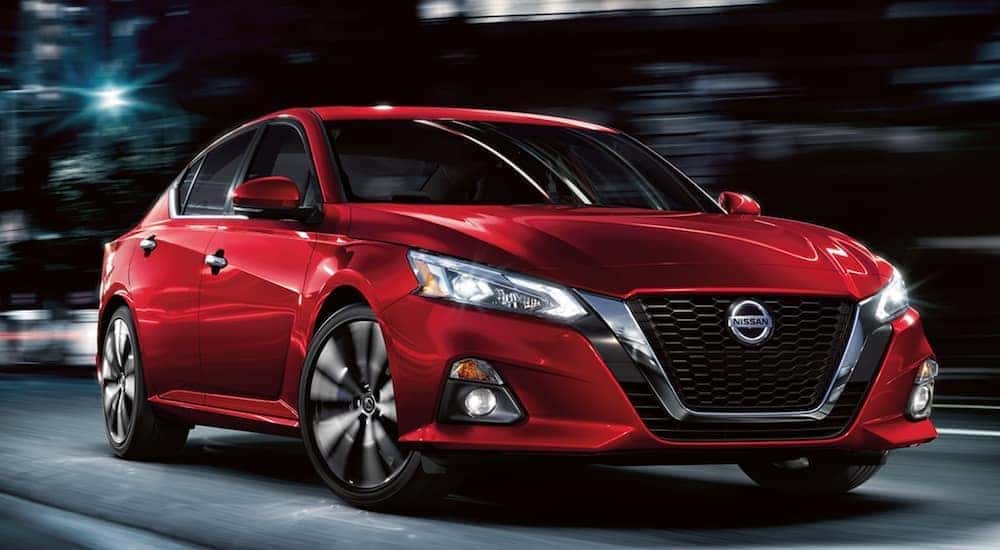 Sedans are some of the most in-demand vehicles in today's automotive market. They are designed for carpooling, growing families, or solo drivers who don't need a pickup or SUV to haul larger loads. Some sedans lend themselves to a very different look, with more sleek angles or a more aerodynamic feel than others. One such sedan is the 2021 Nissan Altima, regularly in stock at your White House TN Nissan dealership, Newton Nissan of Gallatin. This midsize vehicle has a wide grille, tapered nose, and a very squared-off trunk. It has a very different feel to it when compared to others in the same family.
The Nissan Altima has a very sleek design, respectable fuel economy, and plenty of tech features for ease of access as well as safety. This sporty sedan has good trunk space for the class, along with 60/40 split rear seats to accommodate larger objects. Some of its driver assistance features are unique and cutting-edge. All of these features combine to create a head-turning sedan with a sporty feel. The 2021 Nissan Altima has helped to push sedans further in terms of driver assistance technology as well as other features. This vehicle combines style and comfort in a unique way to create a midsize sedan that most drivers won't soon forget.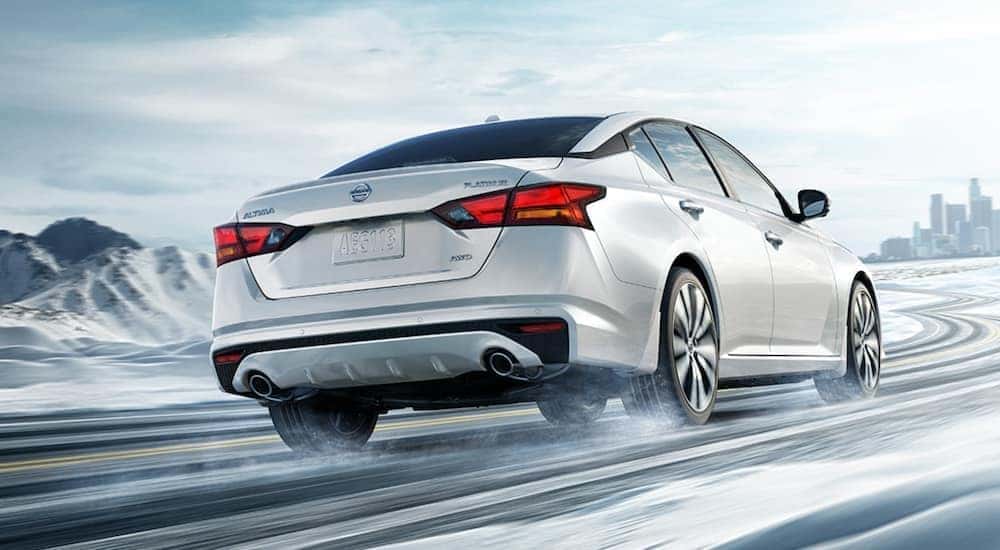 Taking Up Space: Fuel Economy and Safety
The 2021 Nissan Altima has a base MSRP of $24,450.* For that price, owners will be investing in a vehicle with plenty of passenger and storage space. Fifteen cubic feet in the trunk is impressive for the class, and a portion of the 101 cubic feet of passenger space can be allocated to cargo instead with the 60/40 split rear seats. Other space in the vehicle is dedicated to the sixteen-gallon gas tank, which offers over 500 miles of range. Fuel economy is up to 32 miles per gallon combined, with 28 miles per gallon in the city and 39 miles per gallon on the highway. However, the Altima has two engines and two drivetrain options for buyers to choose between.
The 2021 Nissan Altima's base engine is a 2.5-liter four-cylinder with 188 horsepower and a continuously variable transmission. This is the most efficient option. All-wheel drive is available with the base engine, distributing power among all four wheels for better control and traction on the road. The optional engine is a 2.0-liter turbocharged four-cylinder that produces 248 horsepower. The base-level engine has good acceleration, but upgrading to the turbocharged option will get you the most out of your Altima. Still, this midsize sedan has good handling and plenty of safety features, no matter which engine is installed.
Many of the safety features on the 2021 Nissan Altima are things that have become standard in today's market. Available blind-spot warning, usually with a tone and a light in the side mirror, is a common feature these days. The same goes for automatic emergency braking, which will apply the brakes to avoid or mitigate frontal collisions. However, Nissan's Safety Shield 360 suite goes further and keeps the Altima protected on all sides.
Rear automatic braking is a rare feature in brands other than Nissan but massively reduces the risk of accidents while reversing. Rear cross-traffic alert is also offered on all trims of the Altima, watching for oncoming traffic when you back up. The Intelligent around view monitor may be the most impressive of the tools, offering a digital rendering of the area around the vehicle that is stitched together from multiple exterior camera angles. These are only some of the plentiful safety features available for driver and passenger protection.
ProPilot Assist is included in the 2021 Nissan Altima, which will maintain a set distance from the vehicle in front of you as it accelerates and decelerates. Intelligent driver alertness monitors steering patterns and can issue warnings if the driver may need to take a break from being behind the wheel. Simply put, the Altima looks out for you in every way when you are on the road.
On the Inside: Technology and Comfort
This sedan was built with comfort in mind. An available Bose nine-speaker premium audio system gives everyone the ability to enjoy high-quality sound from anywhere in the vehicle. Chrome matte finish and woodgrain trim are also available to lend a more premium look to the spacious interior. The Altima offers 39 inches of headroom in the front seats and 37 inches in the rear, while legroom is 44 inches up front and 35 inches in the back. Dual-zone automatic temperature control allows the driver and front passenger to have the air or heat set to two different temperatures. The NissanConnect Services app can make finding the perfect temperature even easier, allowing for remote start of the Altima so that it is warmed up, inside and under the hood, before the driver steps outside.
There are many other features included for driver convenience. All 2021 Nissan Altimas come with a feature known as a Nissan intelligent key. The car can sense when this key is in close proximity, allowing you to unlock the doors by touching a sensor on the door handle without needing to dig out the key. A lockout protection function is featured as well, making it impossible for someone to lock the doors from the outside if the keys are still in the car. The idea of keeping the key securely stowed while the vehicle is in operation should cut down drastically on accidental lockouts or worse problems.
The 2021 Altima is designed for ease of use on all possible fronts, from climbing behind the driver's seat to loading cargo. The Nissan Altima has convenient interior storage options, with deep door pockets and a tray at the front of the center console. All the controls are clearly labeled and easy for the driver to reach from the comfortable front seat. The squared-off shape of the trunk makes it easy to load to maximum capacity. Road noises also stay low, even at high speeds.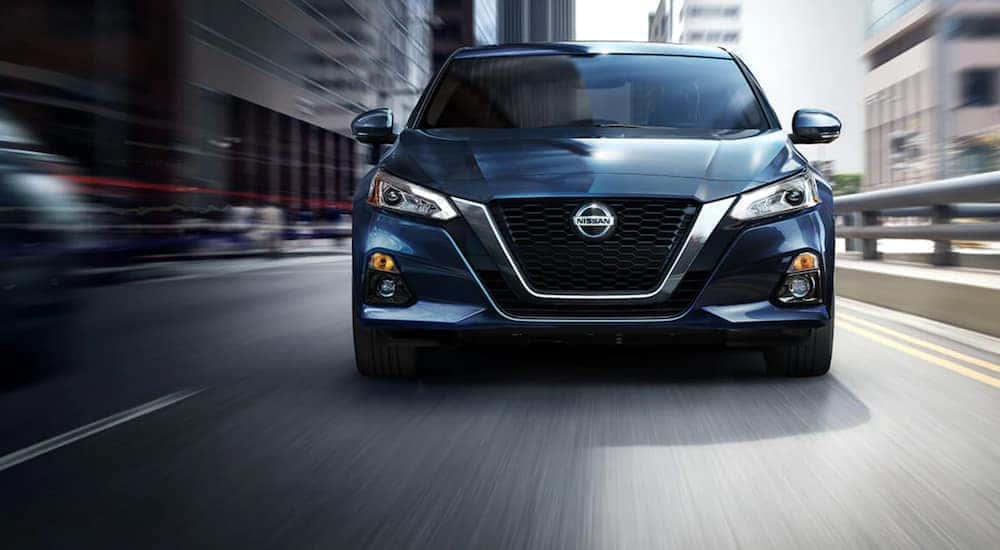 2021 Nissan Altima: The Natural Choice
The 2021 Nissan Altima is everything that can be expected in a modern sedan. It makes good use of the space, keeps passengers comfortable, and has impressive gas mileage. Cargo availability is good for the class, and the smart key makes access even easier than before. A suite of safety features ensure that the vehicle has protection on all sides for any situation that may crop up. The Nissan Altima's wide fascia and narrow headlights give it a sporty look that this sedan uses to the best advantage. Anyone seeking a reliable, safe vehicle would do well to test drive a 2021 Nissan Altima here at Newton Nissan of Gallatin.
Established in 2009, Newton Nissan of Gallatin has highly trained service, finance, and sales teams that are all ready to help you. Our lots offer new, used, and pre-owned vehicles, some even priced under $10,000. All vehicles on the lot are subject to regular maintenance, ensuring that our customers can always test drive the very best. Finance applications can be filled out online, and we have knowledgeable staff standing by to answer any questions. To do business with the best and see all the good things in the 2021 Nissan Altima, find your way to Newton Nissan of Gallatin today!
*MSRP subject to change. Please see dealer for details.