Sedan Showdown: Choosing Between the Sentra and the Altima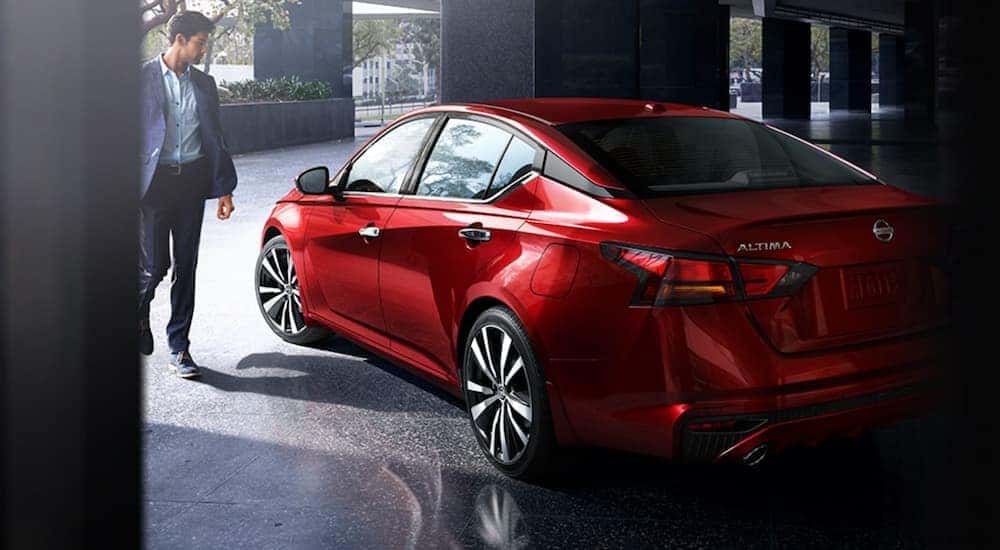 Wondering if you should buy a 2021 Nissan Altima or a Nissan Sentra? The decision can be difficult because they're both great models. The Sentra is a compact design with a lower starting price, and the Altima is a midsize option with a bit of a higher cost. Both of these vehicles have excellent features, and choosing between them can be tough. That's where Newton Nissan of Gallatin, your Goodlettsville Nissan dealer, can help. Is it worth it to splurge on the larger Altima, or is the Sentra enough to suit you? Let's find out!
Size and Space
Midsize sedans are obviously somewhere in the middle when it comes to space and cargo. Meanwhile, a compact sedan is perfect for individuals who don't need a lot of space in the back seats and trunk. So, the first factor to consider when you're choosing between these two models depends on how much space you're looking for. The Sentra is great if you're less concerned about space and more concerned about saving money. Plus, this model is still quite spacious; it's just not as large as the Altima.
The 2021 Sentra is 182.7 inches long and 56.9 inches tall. It offers 96 cubic feet of passenger space, and its trunk has 14.3 cubic feet available for cargo. The 2021 Altima, on the other hand, is 192.9 inches long, 56.7 inches tall, and it offers up to 100.8 cubic feet of space for passengers. Further, the Altima has a slightly larger trunk than the Sentra, with 15.4 available cubic feet. Both models are roughly the same width as well, and both can seat up to 5 people.
Overall, there aren't many major differences here. While the Altima has a slight edge on the Sentra when it comes to size, that doesn't necessarily mean you should choose the Altima. If you don't need the extra space, and the cheaper price tag is more important to you, then remember that the Sentra is still far from being tiny. These are both midsize Nissan sedans at the end of the day. It's all about preference here.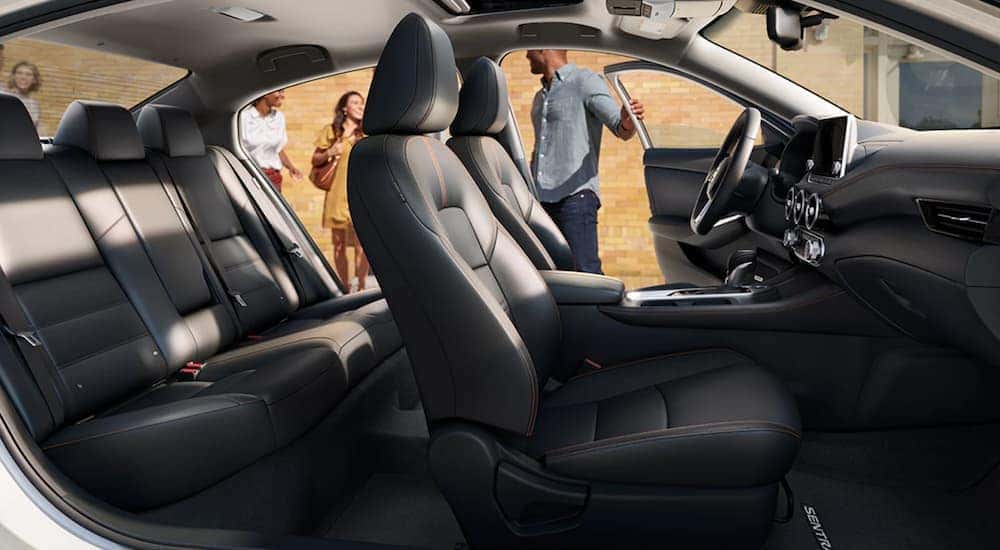 Standard Features and Safety
Here's the thing. Both models are Nissans, so it's no surprise that both 2021 models are highly rated. The 2021 Nissan Sentra is an IIHS Top Safety Pick, while the 2021 Altima is an IIHS Top Safety Pick+. This is mostly because both cars come with Nissan's standard Safety Shield 360. Since this safety suite is standard, that means it comes for free, no matter what trim level you choose. Even the Altima S and the Sentra S, the base-level trims, include these 6 standard safety features.
The Safety Shield 360 comes with Automatic Emergency Braking with Pedestrian Detection for starters. By using sensors and cameras, your Nissan model can detect what's ahead. When you're not quick enough to react, its brakes will kick in and "emergency stop" for you. The suite's Rear Automatic Braking system works similarly, but while you're in reverse.
Other helpful standard features include Rear Cross Traffic Alert and Blind Spot Warning, which are systems that monitor vehicles behind and beside you. These features send driver alerts, ensuring that the driver doesn't switch lanes when the coast isn't clear and makes sure they don't back out in front of another driver. Lane Departure Warning is also helpful, as it makes sure drivers remain in the correct lane. While this is no excuse to sleep and drive, this feature is handy for situations when drivers zone out or drift off.
Finally, the Sentra includes Intelligent Cruise Control and the AroundView Monitor, just like the Altima does. This cruise control feature works like classic cruise control, except it has the ability to monitor traffic flow and readjust your speed without you having to do a thing. And High Beam Assist, while simple, helps by automatically dimming your headlights when there's oncoming traffic. This prevents you from blinding oncoming cars, which keeps you and other drivers much safer. That said, one thing that the Altima has over the Sentra is something called Nissan's ProPILOT Assist.
ProPILOT Assist is sort of like Intelligent Cruise Control, except that it works constantly. Well, as long as you have it selected, that is. You don't have to set your cruise for ProPILOT Assist to keep you out of trouble. This system monitors traffic flow and works as your own personal driving aid. It'll even put you to a complete stop when needed.
Lastly, both models come with Intelligent Driver Alertness which notifies you when it detects sleepiness. Traffic Sign Recognition is also available on both models. In short, this feature memorizes and stores recent road signs so that you're never behind on the rules of the road. Overall, both models offer plenty of safety features, and their standard features are exactly the same. The Altima just has a slight edge over the Sentra when it comes to safety tech availability. But only by a small margin.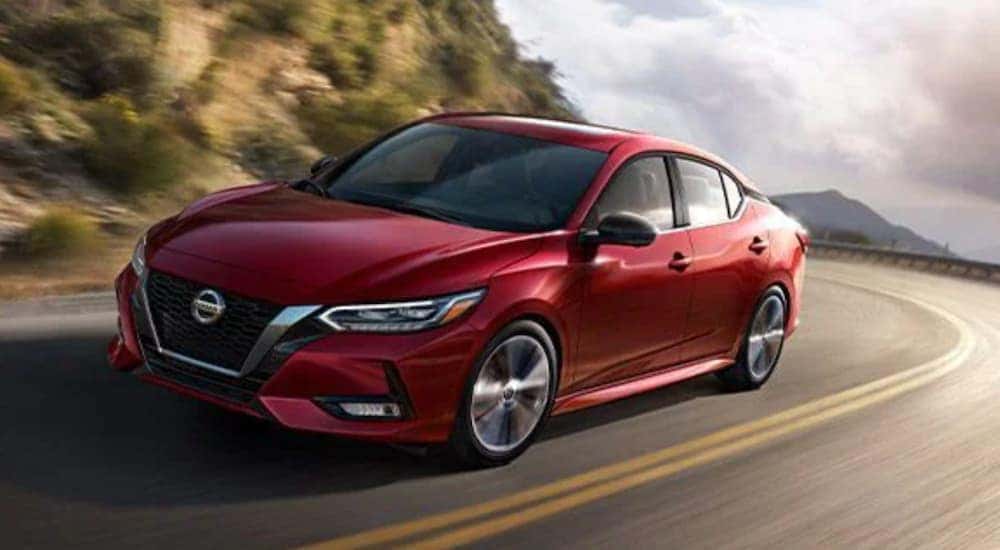 What About Additional Technology?
For the most part, these models offer the same tech features. These include Apple CarPlay and Android Audio, alongside hands-free Bluetooth and voice activation. You'll also have access to NissanConnect's Wi-Fi hotspot and USB and USB-C charging ports. Thanks to NissanConnect, both the Altima and the Sentra support Amazon Alexa and Google Assist. Similarly, both cars come with remote access via the NissanConnect app, along with helpful routing services.
However, the 2021 Nissan Altima comes with Turn-By-Turn Navigation and Door to Door Navigation. The main differences between these features lie in the way they present data. Turn-By-Turn Navigation adds turning arrows for you to follow. These arrows are presented on your dash so that they're easy to see and you don't have to get distracted by looking away. Further, Door to Door Navigation is specific to Nissan models. This technology allows you to track down your Altima's location, and it includes additional traffic data to make routing more accurate.
Aside from additional navigation options, there aren't many differences between the 2021 Altima's tech and the 2021 Sentra's. The Sentra does include standard built-in navigation, so it's still very efficient. It just depends on what type of navigation system you prefer.
Which One Is for Me?
You came here because you weren't sure if you should buy a 2021 Altima or a 2021 Sentra. Rather than telling you which one to buy, we've taken a different route. We can tell you which car works best for which crowd. If you're not looking to spend too much money and you're content with the Sentra's slightly smaller size, we recommend the Sentra over the Altima. The truth is that the 2021 Sentra is a highly capable and convenient car, and it comes with many standard features that most cars in its class lack.
However, if budget isn't an issue, we say to go for the 2021 Nissan Altima. Overall, it's not a ridiculous amount more expensive, and it comes with more space alongside a few special safety and tech features. Both models are equally as good, just in different ways. Now that we've helped you sort out which crowd you're a part of, head down to your Newton Nissan of Gallatin today to ask for a test drive. Once you see your preferred model in action, we have no doubt that you'll take it home with you.