Nissan Recall Information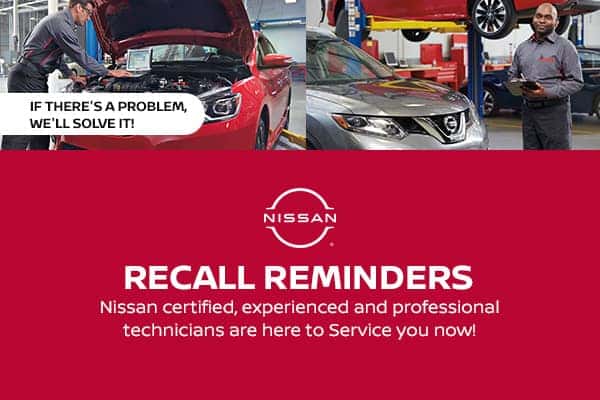 ---
What is the Nissan recall and how does it affect you? Does it make a difference if only one component is being recalled? It is completely understandable for Hendersonville drivers to be worried or stressed about a potential recall, but Newton Nissan of Gallatin can help! As your local Gallatin Nissan dealership, we're here to answer any questions or concerns you may have about Nissan recalls.
WHAT ARE RECALLS AND WHY DO THEY HAPPEN?
Automotive manufacturers test every vehicle before it leaves the factory and arrives at Lebanon-area dealerships. Occasionally, an issue with the vehicle or a part of the vehicle is discovered later, when it undergoes further testing and is exposed to real-world driving conditions. Manufacturers, along with the National Highway Traffic Safety Administration (NHTSA), work around the clock to make sure Madison drivers are safe.
The manufacturer and the NHTSA will issue a recall if a vehicle's mechanical components, seats, or tires do not meet minimum safety standards or are found to pose an unreasonable safety risk. The manufacturer is then responsible for issuing a recall and providing complementary refunds, repairs, or replacements.
HOW DO I KNOW IF MY NISSAN HAS A RECALL?
You'll receive a notification of a Nissan recall via first-class mail. Another way to know if there is a Nissan recall is to check online with the NHTSA or by contacting your vehicle's manufacturer:
You may be able to search for Nissan recalls that affect your vehicle with a VIN (Vehicle Identification Number). The VIN is usually located on the lower driver-side corner of your windshield, on your vehicle registration card, or on the driver-side door jamb.
MY NISSAN HAS A RECALL. WHAT COMES NEXT?
If you are worried about the recall process, fear not! Every automotive manufacturer, including Nissan, must provide recall repair services at no cost to you. However, only authorized dealers can provide complimentary services. If you need Nissan recall repairs, it's easy to schedule service online at the Newton Nissan of Gallatin service center. We will handle your recall in a timely and painless manner!
CONTACT US WITH ANY QUESTIONS OR CONCERNS
Newton Nissan of Gallatin wants to help you take on your Hendersonville drives with confidence and peace of mind. In the event of a recall pertaining to your vehicle, you can trust our factory-trained and certified technicians for accuracy and precision. Contact us today so that we can get the process started, and be sure to browse our current service specials.
Mon - Sat

8:30 AM - 8:00 PM




Sun

Closed
Mon - Fri

7:00 AM - 6:00 PM




Sat

8:00 AM - 4:00 PM




Sun

Closed
Mon - Fri

7:00 AM - 6:00 PM




Sat

8:00 AM - 4:00 PM




Sun

Closed